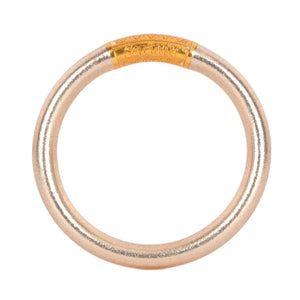 The perfect bracelets to ever exist! You can mix and match with any other bracelets you have! 
Product Details: 
Features: all weather bracelet, lightweight
Fit: lightweight 
Sizing: 
BuDhaGirl Champagne Tzubbie All Weather Bangles are made of thick polyvinyl carbonate tubing that is a semi-flexible material, so there is a little give when you slide the bangles over your hand. The key to deciding your size...how the bangles go over your hand, not the size of your wrist.